Community Spotlight: Dr. Margaret Wallhagen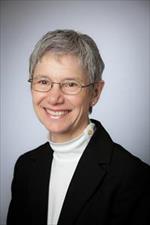 Dr. Margaret Wallhagen is the very first recipient of the Hearing and Speech Center's Annual Integrity Award, an award given to an individual or individuals whose integrity, vision, leadership, and commitment have positively impacted their community and furthered the ability of the Hearing and Speech Center to meet the objectives of its mission.
Dr. Wallhagen is a professor of Gerontological Nursing and a Geriatric Nurse Practitioner in the School of Nursing, University of California San Francisco (UCSF). In January 2006, she became the director of the UCSF/John A. Hartford Center of Gerontological Nursing Excellence. She has explored issues related to informal caregiving, diabetes, and successful aging; and has focused specifically on hearing loss for the last several decades. She first became interested in the issue when participating in a study on sensory loss.
"I became more and more concerned about the impact of hearing loss on the older individuals and their families and the lack of awareness of clinicians. I also realized Medicare did not cover hearing aids, a significant barrier. This led me to alter my plans and devote my research, practice, and advocacy on hearing loss. My commitment to this has just grown as I've worked more with individuals who experience hearing loss, and its affects, and continue to face barriers in the clinical setting in terms of appreciation to the issue," Dr. Wallhagen explained.
"I knew some about the Hearing and Speech Center and its philosophy through Helen Luey – and I truly do credit Helen with helping me initially become more aware of issues related to hearing loss. I strongly support the mission of the Center and the range of services it provides," she said. "All of these activities involve a commitment to the community because the goals of disseminating information about hearing loss, integrating hearing screening into the primary care settings, and changing policy to enhance access are all focused on the larger community of persons with hearing loss and their families and friends as well as the work environment."
Her most recent work included a four-year longitudinal study of the experience of hearing loss in older adults and their partners, and a study on the benefits of integrating a concise, easily implemented, screening and educational protocol into primary care settings to promote better access to care and treatment. She is the immediate past Chair of the Board of Trustees of the Hearing Loss Association of America – the largest national advocacy group for people with hearing loss. Dr. Wallhagen has been a strong advocate for people with hearing loss, and we are excited to honor her at our upcoming gala, A New Century of Hearing Health, on Friday, May 11th.