Background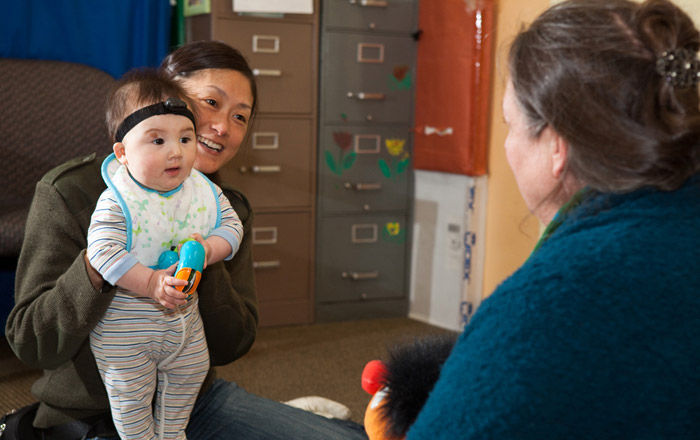 Approximately 1-2 of every 1,000 babies born in the United States has a hearing loss. This number increases to 3-4 of 1,000 for babies requiring services in the neonatal intensive care unit. Left undetected, hearing loss interferes with speech-language acquisition, academic achievement, and social and emotional development. However, finding hearing loss early and implementing early intervention services greatly improves developmental outcomes. A standard of care now exists stating that all newborns should be screened for hearing loss within the first month and diagnosed within three months. California became one of 42 states mandating that all newborns be screened when it passed legislation in 1998.
Universal Newborn Hearing Screening
Hospital hearing screening programs are set up to screen ALL babies before they leave the hospital. If a baby is discharged from the hospital prior to screening, it will be called back within just a few weeks. For those babies born at birthing centers without screening programs or at home, pediatricians are responsible for referring the baby to an audiology site like the Center for a screening prior to age 2 months. Babies who are admitted to the neonatal intensive care unit for multiple days, or have certain risk factors for hearing loss, should be referred directly to an audiology site for more comprehensive diagnostic testing. The newborn hearing screening is a quick and painless procedure. Hospitals use two tests to screen babies for hearing loss: Otoacoustic Emissions and/or Auditory Brainstem Responses. The responses recorded during either of these tests must meet a certain criteria to be considered a pass. If either ear does not pass, the baby is referred for a re-screening in both ears.
Risk Factors for Hearing Loss
The Joint Committee on Infant Hearing has identified 11 risk factors associated with hearing loss in childhood. While caregiver concern regarding hearing or speech-language development is first on the list, there are other factors that may occur much earlier – during pregnancy or soon after birth. They include:
familial history of congenital hearing loss
in-utero infections
in-utero exposure to drugs and certain medications
neonatal intensive care unit stay of greater than 5 days
prematurity
very low birthweight
ECMO (treatment for cardiorespiratory failure)
assisted ventilation
chemotherapy
postnatal infections
complications with Rh factor in the blood
craniofacial anamolies
certain syndromes
hyperbilirubinemia (severe jaundice) requiring exchange transfusion
head trauma
If your baby has certain risk factors, they should be referred by the hospital screening program to an audiology facility like the Center for more extensive diagnostic testing. Talk with your pediatrician if you have concerns about your baby's risk factors.
Does My Baby Have a Hearing Loss?
Even babies with no risk factors can be born with significant hearing loss. Aside from newborn hearing screening, parents and caregivers are often the first to sense that their baby might have a hearing problem. It is important to recognize the signs of hearing loss in infants as early as possible, as the most critical period for speech-language development (regardless of modality, spoken or signed) is from birth to three years of age. Babies who pass the neonatal hearing screening can also have a hearing loss – either the hearing loss is mild and not caught by the screening or the hearing loss is delayed in its onset.
Check these developmental milestones from the American Speech-Language-Hearing Association for expected hearing and speech-language behaviors at various stages of infancy and early childhood. If you ever have any concerns, do not delay in expressing them. Talk to your pediatrician about a referral for a hearing test, as it is NEVER too early to see an audiologist for testing.