Rayford Reddell (1936-2014)
The Hearing and Speech Center is sorry to share the news of the passing of Dr. Rayford Reddell, former Executive Director of the San Francisco Hearing and Speech Center.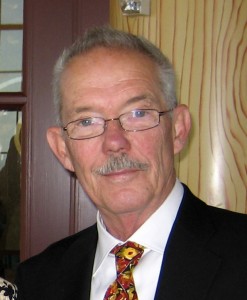 Rayford Clayton Reddell passed away June 2, 2014 at 77 years of age. Ray was born in Jennings, Louisiana. He is preceded in death by his parents, Clayton Jeff Reddell and Saih Vidrine Reddell, his sister, Betty Reddell Istre, and his loving partner, Bob Galyean. Ray is survived by one special niece, Kathleen Istre Alonso, and two grand nephews, Robert Cole Bridges and Rayford Curt Bridges.
Ray graduated from Jennings High School and attended Louisiana State University where he graduated with a BA. He then went on to University of Maryland and earned an MA in Audiology to be followed by a PhD in Audiology from Stanford University. After 12 years working for the Veteran's Administration, Ray joined the San Francisco Hearing and Speech Center as Director of Research and Audiology. In 1972, Ray was appointed Executive Director, in which position he served for 33 years. During this time, Ray maintained the nonprofit organization by reaching out to generous philanthropists, including Phyllis Wattis with whom he raised enough money to build the Wattis Building at 1234 Divisadero, the current home of the Hearing and Speech Center.
In 1980, Ray purchased a nine-acre ranch in Petaluma, California. Ray turned to his passion for roses and began planting field grown cut garden roses for the floral trade. The ranch, known as the Garden Valley Ranch was planted with over 8,000 rose bushes. His love of roses developed into teaching others how to grow beautiful, fragrant roses. He became a top gardening writer, winning accolades from sources as diverse as M.F.K. Fisher, Horticulture, and the Wall Street Journal. He was a garden columnist for the San Francisco Chronicle as well as a regular contributor to Horticulture magazine, and he was best known for his book, The Rose Bible. His Garden Valley Ranch became the largest and most distinguished supplier of garden roses in the United States.
Ray did not wish for a formal service or flowers, but preferred that donations be made in lieu of flowers to the Hearing and Speech Center of Northern California, 1234 Divisadero Street, San Francisco, CA 94115.
Share your memories of Ray in the Guest Book.