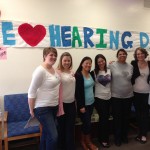 It's our second annual We Heart Hearing Day. We're celebrating our love of better communication with a patient appreciation day. Join us on February 13th for technology and audiology support, and our door prize drawing!
We Heart Hearing will happen at the Hearing and Speech Center. CTAP will offer consultations from 9am to noon and our Audiology open house will open from 1 to 5pm. Download the flyer here for more details.
Our community events create access for people of all income levels. Want to see more like this? Make a donation to help the Hearing and Speech Center work!
California Telecommuncations Access Program Consultations
9:00 to 3:00
Meet with a CTAP counselor and get
a phone free of charge through the
state CTAP program!
Audiology Open House
1:00 to 5:00
Hearing aid cleaning and checks
Hearing screenings
Auditory Training demo
Assistive Listening Device demos
Resource table
Refreshments
We Heart Hearing will take place at
the Hearing and Speech Center
1234 Divisadero St.
San Francisco, CA
(between Eddy and Ellis St.)
Accessible from the 31, 24 and 38 bus
lines.
Parking in rear of building.
Don't miss out on our prize drawing!
You could win a hearing aid care kit
valued at $75
WE HEART
HEARING
DAY!
Friday, February 13, 2015